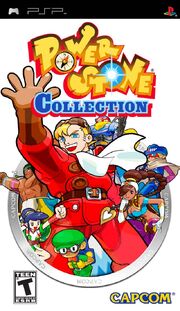 Power Stone Collection, known as Power Stone Portable (パワーストーン ポータブル) in Japan, is a game released for PlayStation Portable in 2006 that includes Power Stone and Power Stone 2 with extra content, such as the ability to play as Kraken and Valgas in the second game and Pete, Julia, Gourmand, and Accel in the first game, and 12 new items. However, VMU features from the second game were removed.
External links
Edit
Ad blocker interference detected!
Wikia is a free-to-use site that makes money from advertising. We have a modified experience for viewers using ad blockers

Wikia is not accessible if you've made further modifications. Remove the custom ad blocker rule(s) and the page will load as expected.