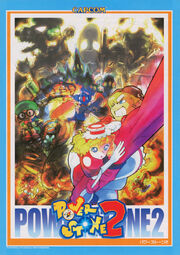 Power Stone 2 (パワーストーン2) is a 3D fighting game developed and published by Capcom that was first released in arcades in 2000 on the Sega NAOMI hardware in Japan. It was later ported for Dreamcast and is included with improvements in the Power Stone Collection for PSP, except for the VMU feature.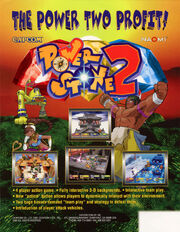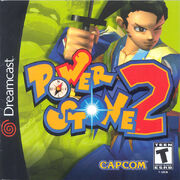 Without warning, the sky is filled with dark, ominous clouds, and a giant shadow spreads over the region, shaking the land with its roars. Suddenly, a mysterious floating castle appears out of nowhere. During the event, the Power Stone fighters are captured by evil forces and taken to the castle. Now they must find a way to escape the castle.
Playable Characters
Edit
Note: Items 122-133 are only available in Power Stone Collection.
Other items
Edit
External links
Edit
Ad blocker interference detected!
Wikia is a free-to-use site that makes money from advertising. We have a modified experience for viewers using ad blockers

Wikia is not accessible if you've made further modifications. Remove the custom ad blocker rule(s) and the page will load as expected.