The Lord (殿様) of Oedo gave Ayame and her family the task to find a "Sutoun", starting her quest for the Power Stones. In Ayame's ending, she gives a fake stone for him. In Power Stone 2 he gave Ayame a letter telling her to return.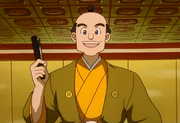 The Lord has trouble because of Kraken. The Lord was held hostage by Octo and Pus the Octopus Twins but was rescued by Edward Falcon and his friends.
Ad blocker interference detected!
Wikia is a free-to-use site that makes money from advertising. We have a modified experience for viewers using ad blockers

Wikia is not accessible if you've made further modifications. Remove the custom ad blocker rule(s) and the page will load as expected.