Dullstown is the stage of Galuda in the first Power Stone game. The stage is set inside a "Fighter's Saloon", where tables, chairs and barrels can be throw as weapons. In the wall there are wanted poster of the eight standard playable characters.
Stage items
Edit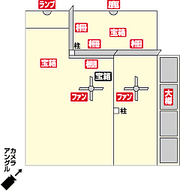 Pole (x2)
Table (x2)
Chair (x4)
Crate (x2)
Barrel (x3)
Large barrel (x4)
Shelf (x1)
Fence (x3)
Fan (x2)
Deer head (x1)
Lamp (x1) - Burns opponent
Ad blocker interference detected!
Wikia is a free-to-use site that makes money from advertising. We have a modified experience for viewers using ad blockers

Wikia is not accessible if you've made further modifications. Remove the custom ad blocker rule(s) and the page will load as expected.