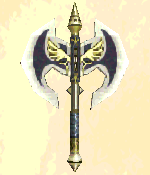 Brave Man's Axe (勇者の斧) is an item from Power Stone 2. This giant axe's attack is a bit slow due to its weight, but it causes heavy damage.
Power Stone 2
Edit
Item No. 65 Brave Man's Axe
Level 6
Axes
Description
Legend says a hero used it to slay many demons and monsters.
Duration
Time
Buy
---
Sell
90000
Created from
Edit
Item Book:
Emblem of the Brave + Lumber Jack's Axe (main)
Emblem of the Brave + Dragon Slayer (main)
Others:
Combinations
Edit
Ad blocker interference detected!
Wikia is a free-to-use site that makes money from advertising. We have a modified experience for viewers using ad blockers

Wikia is not accessible if you've made further modifications. Remove the custom ad blocker rule(s) and the page will load as expected.